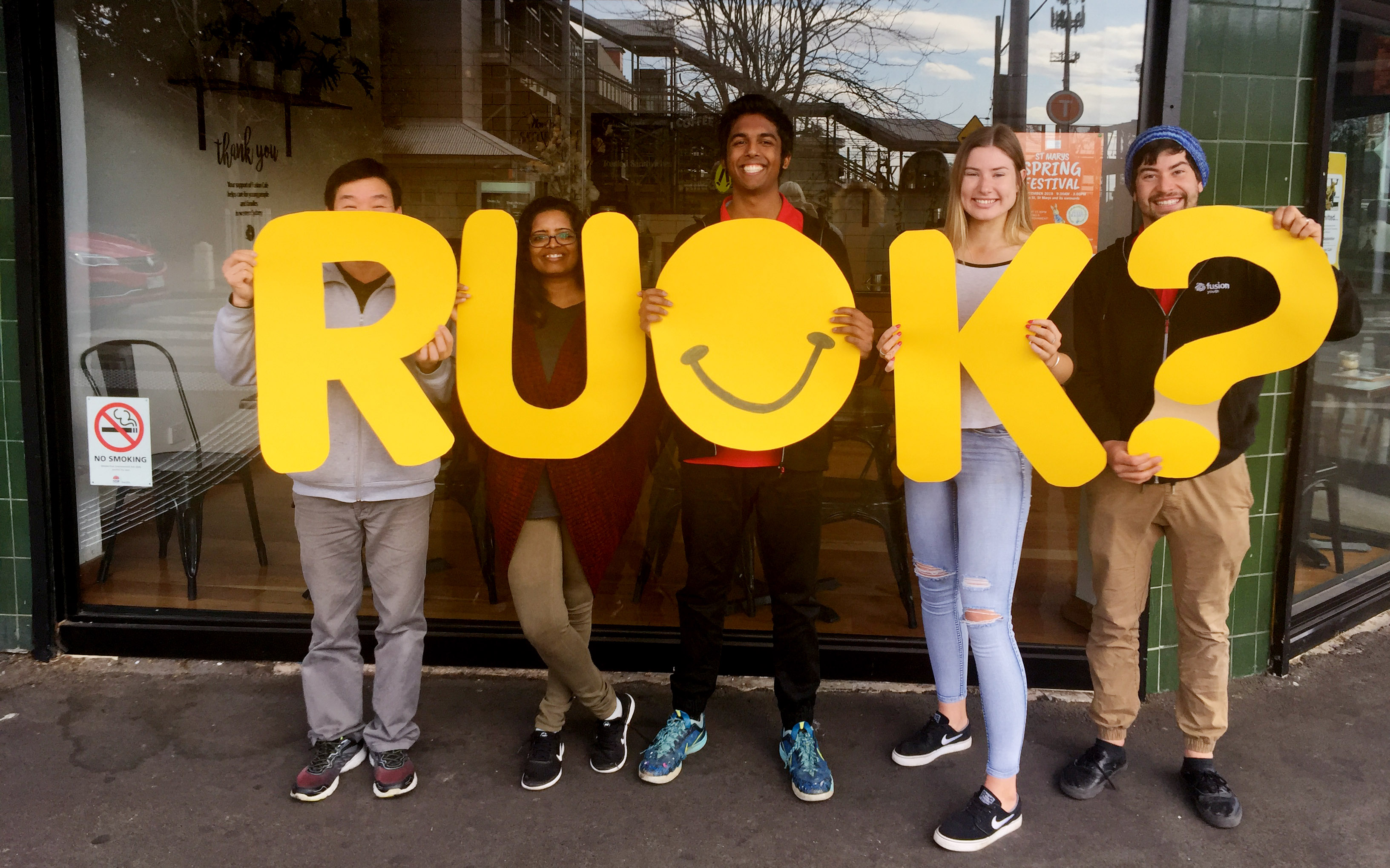 R U OK i
s a national suicide prevention charity dedicated to inspiring all of us to have regular, meaningful conversations to support anyone struggling with life.  
R U OK Day,
Thursday 13 September 2018
 is about giving us the skills, motivation and confidence to start a conversation with anyone who might be doing it tough.
Fusion is committed to building resilient young people, stronger families and safer communities and so we want to show our support for R U OK Day in our local community.  
On Thursday 13 September, the Fusion Cafe will be alive all day with activities to raise awareness of 

R U OK Day

 and the ways we can get alongside our friends, family and colleagues by asking R U OK? Conversations that are geared towards helping people feel supported and connected can make a difference.  When we invest more time in our relationships, it can make it easier for people to speak up, access help if needed and access it early.  
Drop in to the Fusion Cafe (corner Queen and Station Streets St Marys) anytime from 8am – 2pm to enjoy a free bbq and fun activities that will help us get better at checking in with those around us. Deputy Mayor of Penrith, Councillor Tricia Hitchen will be there to show her support of the day and to encourage all of us to play a role in keeping each other safe.  Join us and wear a splash of yellow for the day, the 

R U OK

 colour theme!
To celebrate 

R U OK Day,

 we are also hosting a Trivia Night on the evening of Thursday 13 September as a fundraiser for suicide prevention for 

R U OK

 in the Fusion Cafe.  This will be a great night, bringing the local business community together to support a very important cause. Tables are $100 each with a maximum per table of 6. Doors open at 5pm, Trivia Night commences at 6pm, ending at 7.30 pm.  To make a booking or for more details call Judy Tweeddale on 0423 320 437.